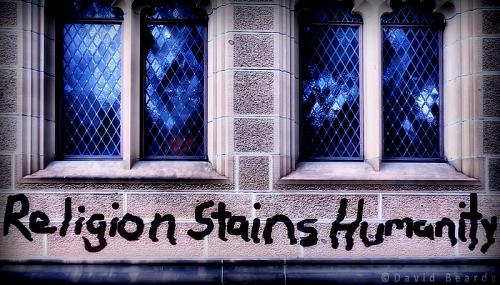 Church is nothing if not a sanctuary, right? Church leaders promise to be the most trustworthy figures outside of family. Obviously, recent and not so recent allegations in the Catholic Church has been bringing that premise into question. If I was Catholic and a parent, I would certainly think twice about letting my adolescent spend close, alone time with a priest, even one who is completely innocent.
A woman recently revealed that problems are not limited to the Catholic Church. In 1997, Tina Anderson of Concord, NH, then 15, was raped. Tina was a babysitter for the children of Ernest Willis, a well known and well liked member of the Trinity Baptist Church in Concord. The first time he raped her, he was supposedly giving her a driving lesson, but when he stopped the car in a parking lot to let her into the driver's seat, he pulled her instead to the back seat. The second time, he forced his way into her house when she was home alone.
Like many victims of rape, she felt shame and was afraid she would be blamed. After she realized she was pregnant, she told her rapist, Ernest Willis. Willis offered to drive her out of state for an abortion or to punch her in the stomach to force a miscarriage. At that point, Tina thought she should tell her mother, who advised her to tell her Pastor, Chuck Phelps.
It turns out, Tina was right. She was blamed. Phelps reacted by telling her to go before the congregation and apologize for her sins. He said that while Willis might have been 99% responsible, Tina needed to be punished by admitting to her 1%.
"He told me that I should be happy that I didn't live in Old Testament times because I would have been stoned."
Fran Earle, the Church's former clerk, witnessed the punishment. She said it was regular for young girls to be humiliated for their "sin" of becoming pregnant. Willis was instructed to apologize to the congregation for being unfaithful to his wife.
Then, her family shipped her, against her wishes, to Colorado and instructed her to give up her baby for adoption. She was home schooled and forced to have little contact with the outside world. Phelps did call the police on Willis, but since the police couldn't find Tina, there was little they could do.
It took 13 years, but in February of this year, Tina realized that the rape was not her fault, even by 1%. It's rare for rape victims to publicly come forward, but Anderson did after contacting Jocelyn Zichterman, who runs an online group for victims of church abuse.
Willis has finally been arrested. He was released on $100,000 personal recognizance bail and will be arraigned on June 16th.