With dead models hanging from nooses around their necks and dismembered heads littering the floor, Kanye West has produced what must surely be his most controversial video yet.
The video for Monster, leaked online today, even shows Kanye in bed with a couple of apparently dead models, positioning their limp hands to touch one another.
Other scenes show a woman dragging a dead male model across the floor and a couple feasting on a bloody corpse.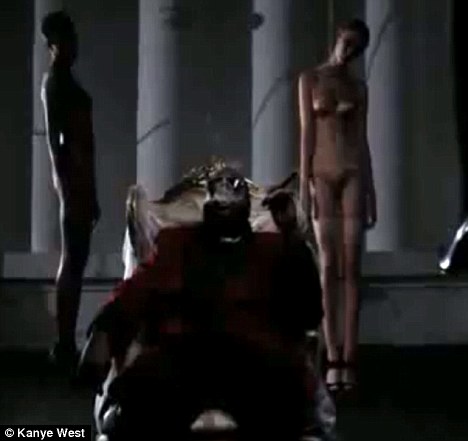 Controversial: The music video for Kanye West's new single Monster features dead models hanging from nooses
Kanye moves apparently dead models around in scenes from the video
As well as Kanye, the video also features cameo appearances from Nicki Minaj, Jay Z, Rick Ross and indie-folk star Bon Iver.
The full video was leaked on YouTube, where an earlier sample had already been published. With foul language and graphic scenes it is too offensive to post here.
The top-rated comment on the video sharing site stated: 'The song's awesome, there's not denying that. And yes it's called monster so I understand all the blood and gore; I dig it.
Controversial: The video seems inspired by 'torture porn' films such as the Saw series
Leaked: The full video was posted on YouTube, where an earlier sample had already been published
'BUT there is absolutely no excuse or rational explanation for the opening scene, I am a very open minded person when it comes to art in all its forms but dead, half naked woman hanging from nooses?
'You can be a "monster" without promoting human torture and acting like it's no big deal.'
It isn't the first time Kanye has courted controversy with a video.
Graphic: One scene shows a female model dragging a dead male model along the floor
He was forced to remove a graphic video featuring a sex scene and self-mutilation from his website last year.
The rapper had posted an 11-minute film titled We Were Once A Fairytale, which is directed by Spike Jonze, on his blog on Monday.
It follows West, 32, on a drunken night out. He is seen having sex with a stranger, projectile vomiting rose petals and then stabbing himself in the stomach.
Shortly after the footage appeared, the hip hop star removed it from his site and issued an apology.
Cameo appearance: Nicki Minaj 'attacks' a more innocent version of herself during her spot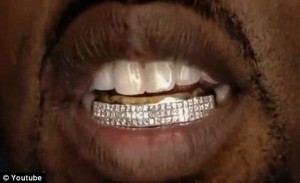 Diamond grill: Kanye also showed off his shiny teeth in the video